Triumph Insurance
HUGHENDEN M40 TRIUMPH MOTORCYCLE INSURANCE
A specialist motorcycle insurance designed exclusively for Triumph owners.
Developed by insurance specialists Bikesure Insurance Services, Hughenden M40 offer a specialist motorcycle insurance policy at competitive rates and includes as standard the following:
Policy features and benefits
Helmet and Leathers cover up to £1000
Personal Accident cover up to £10,000
New Bike Replacement
Accident repairs via both Hughenden M40 and Triumph's wider national authorised dealer network.
European Cover
24 hour claims assistance
Generous no-claims discount structure
Discounts for rider training qualifications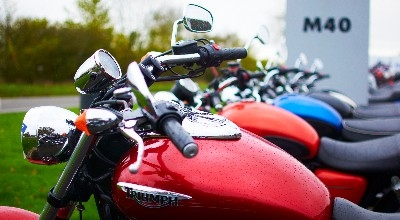 Tips for reducing your insurance premium.
Not only does our new Triumph motorcycle insurance come with some great benefits, Bikesure have provided some great tips on how you can ensure you reduce your insurance premium without reducing your cover and protection.

The following guide shows you the key factors that can effect your insurance premium, having the right security devices, where you store your bike and the miles you ride each year all play an active role in the price you pay, see Bikesure's full guide here. 
Learn how to get cheaper motorbike insurance
In addition to the tips featured there is of course advanced motorcycle rider training, having certification in advanced rider training can also lower your insurance premium. Organisations such as Rospa, the IAM & the BMF offer courses.
Learn how motorcycle training can reduce your bike insurance premium
Bikesure motorcycle Insurance also offers 7 days free insurance on the purchase of a new Triumph motorcycle, subject to terms, conditions and qualifying criteria (details available on application). For further details, please contact Hughenden M40 .